I and Love and You Dog Chews Review
Fresh All Rover Breath Bones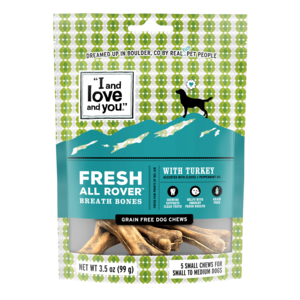 Price Comparison
Updated - Mar 17, 2018
---

5.99
+ Shipping ($5.95)
$5.39 w/ code

HOT10
Save 10% On Treats
Use Code: HOT10

5.99 + Shipping (By Weight)
Free Shipping On Orders $25+
---

16.99
+ Shipping ($5.95)
$15.29 w/ code

HOT10
Save 10% On Treats
Use Code: HOT10

16.99 + Shipping (By Weight)
Free Shipping On Orders $25+
---

5.99
+ Shipping ($5.95)
$5.39 w/ code

HOT10
Save 10% On Treats
Use Code: HOT10

5.99 + Shipping ($5.99)
Free 2-Day Shipping Available
On Orders $35+

7.07 + Shipping ($5.99)
Free Shipping On Orders 35+

5.99 + Shipping (By Weight)
Free Shipping On Orders $25+
---

16.99
+ Shipping ($5.95)
$15.29 w/ code

HOT10
Save 10% On Treats
Use Code: HOT10

8.98 + Shipping (By Weight)
Free Shipping On Orders $25+
Review of I and Love and You Dog Chews
Fresh All Rover Breath Bones
Ingredient Review
The first ingredient is ground sweet potato. Ground sweet potatoes are a common gluten free carbohydrate source in pet food. In addition to its fiber content, sweet potatoes are an excellent source of beta carotene, an important antioxidant which serves as a precursor to vitamin A.
The second ingredient is tapioca starch. Tapioca starch is a gluten-free starch extracted from cassava roots. Starch is a necessary component in producing kibble and tapioca is an excellent choice in this regard.
The third ingredient is pea starch. Pea starch is a gluten free carbohydrate derived from peas. Typically, pea starch is used as a binder in kibble.
The fourth ingredient is vegetable glycerin. Vegetable glycerin is a clear, orderless liquid derived from plant oils. It is often used to increase the product's moisture and/or improve palatability.
The fifth ingredient is water. Water of course only provides moisture, a necessary component of wet dog foods.