Iams Proactive Health Review
Oral Care Daily Treats Salmon Flavor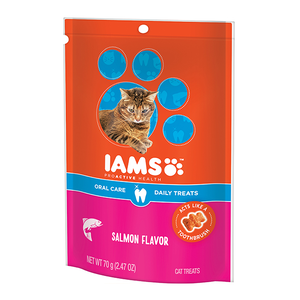 Price Comparison
Updated - Oct 16, 2018
---

Existing Customers
Free Shipping Orders $49+

1.84 + Shipping ($4.95)
$1.22

NEW Customers w/ AutoShip
New Customers w/ Auto-Ship
30% Off + 5% Off / First Time
---

18.33 + Shipping (By Weight)
Free Shipping On Orders $25+
Review of Iams Proactive Health
Oral Care Daily Treats Salmon Flavor
Ingredient Review
The first ingredient is chicken meal. Chicken meal is produced by cooking chicken using a process called rendering. The rendering process dramatically reduces the natural moisture of chicken and thereby results in a highly condensed protein source.
The second ingredient is rice flour. Rice flour is a gluten-free carbohydrate source. As long as the bran and germ of the grain are included in the flour, rice flour can provide a notable amount of fiber and nutrition. However, because the type of rice ("brown" or "white") is not specified, we cannot make this determination.
The third ingredient is wheat flour. Wheat flour is produced by grinding uncooked wheat into a powder. In addition to dietary fiber, wheat flour provides various vitamins, minerals, and plant based protein.
Wheat is considered a controversial ingredient because of it's protein content. Plant based proteins degrade the overall protein quality in the product. In addition, many people believe wheat is one of the most common ingredients to cause food allergies or intolerance. However, grains such as wheat are typically low offenders in comparison to certain protein sources such as beef.
The fourth ingredient is corn gluten meal. Corn gluten meal is a by-product from the production of various corn products (corn starch, corn syrup, etc). It's very high in protein (nearly 60% protein) and therefore can significant boost the protein content of the product. Because plant based proteins such as corn gluten meal are inferior to meat based proteins (lack many essential amino acids), they are not suitable substitutes.
The fifth ingredient is oat fiber. Oat fiber is a concentrated dietary fiber source. Fiber can help stabilize blood sugar levels and improve or maintain colon health.
Next we have animal fat (preserved with mixed tocopherols). Animal fat is a by-product of tissue rendering. The source animal is not specific and therefore we cannot be certain that the source does not include diseased animals or even euthanized dogs and cats.
The next ingredient is natural flavor. Natural flavor enhances the flavor of the product. The difference between natural and artificial flavoring is that natural flavoring starts from a plant or animal whereas artificial flavoring is entirely man-made.
Then we have potassium chloride. Potassium chloride is a potassium supplement.
Moving on, we have choline chloride. Choline chloride is member of the B-vitamin complex (vitamin B4).
Moving on with this review, we have taurine, which is an amino acid. As with other amino acids, taurine is required for the proper functioning of the body.
Harmful Ingredients
Red 40 is the most widely used artificial dye in consumer goods. Studies have shown that red 40 may accelerate the appearance of immune-system tumors in mice, cause allergy-like reactions and trigger hyperactivity in children.
Blue 2 is an artificial dye which can increase the likelihood of tumors according to the Center for Science in the Public Interest. Like other dyes, blue 2 does not provide any nutritional value.
Yellow 5 is an artificial dye which may be contaminated with several cancer-causing chemicals. Like other dyes, yellow 5 does not provide any nutritional value.
Yellow 6 is an artificial food dye which may be contaminated with cancer-causing chemicals. According to the Center For Science In The Public Interest, yellow 6 can cause adrenal tumors in animals.