Instinct Grain-Free Biscuits Review
Duck Meal and Sweet Potatoes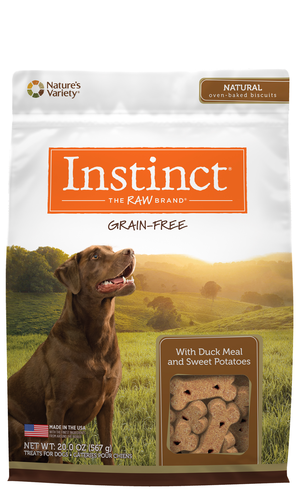 Price Comparison
Updated - Nov 18, 2018
---

Existing Customers
Free Shipping Orders $49+

6.39 + Shipping ($4.95)
$4.25

NEW Customers w/ AutoShip
New Customers w/ Auto-Ship
30% Off + 5% Off / First Time

7.99 + Shipping ($5.95)
$7.19 w/ code

HOT10
Save 10% On Treats
Use Code: HOT10

6.39 + Shipping (By Weight)
Free Shipping On Orders $25+
---

Existing Customers
Free Shipping Orders $49+

11.50 + Shipping ($4.95)
$7.65

NEW Customers w/ AutoShip
New Customers w/ Auto-Ship
30% Off + 5% Off / First Time

Free Shipping On Orders 35+

12.99 + Shipping ($5.95)
$11.69 w/ code

HOT10
Save 10% On Treats
Use Code: HOT10

11.50 + Shipping (By Weight)
Free Shipping On Orders $25+
---

25.33 + Shipping ($5.95)
$22.80 w/ code

HOT10
Save 10% On Treats
Use Code: HOT10
Review of Instinct Grain-Free Biscuits
Duck Meal and Sweet Potatoes
Ingredient Review
The first ingredient is duck meal. Duck meal is produced by cooking duck using a process called rendering. The rendering process dramatically reduces the natural moisture of duck and thereby results in a highly condensed protein source.
The second ingredient is tapioca. Tapioca is a gluten-free starch extracted from cassava roots. Starch is a necessary component in producing kibble and tapioca is an excellent choice in this regard.
The third ingredient is chickpea. Chickpeas (also known as garbanzo beans) are an excellent carbohydrate source, naturally rich in dietary fiber and protein.
The fourth ingredient is sweet potato. Sweet potatoes are a common gluten free carbohydrate source in pet food. In addition to its fiber content, sweet potatoes are an excellent source of beta carotene, an important antioxidant which serves as a precursor to vitamin A.
The fifth ingredient is canola oil. Canola oil is a plant-derived oil from the seeds of canola plants. Although fat is an essential component of any diet, canola oil is controversial in pet food. Proponents claim that canola oil provides a better fat profile in comparison to other plant based oils. However, opponents claim that canola oil is typically produced with genetically modified rapeseed and that rapeseed oil has multiple adverse health affects.
Next we have ground flaxseed. Ground flaxseeds are an outstanding source of omega-3 fatty acids and dietary fiber. They also provide a notable amount of protein, B vitamins, and various minerals.
The next ingredient is natural flavor. Natural flavor enhances the flavor of the product. The difference between natural and artificial flavoring is that natural flavoring starts from a plant or animal whereas artificial flavoring is entirely man-made.
Then we have egg whites. Egg whites consist of shell-free egg whites, which are easy to digest and contain high quality protein. Egg protein is often given the highest biological value (BV). The BV metric measures the usability of the ingredient's protein.
Moving on, we have montmorillonite clay. Montmorillonite clay is a naturally occurring group of minerals which are believed to provide resistance to various environmental toxins. In addition, montmorillonite clay is often used as an anti-caking agent in pet food.