Instinct Healthy Cravings Review
Real Chicken Recipe In Savory Gravy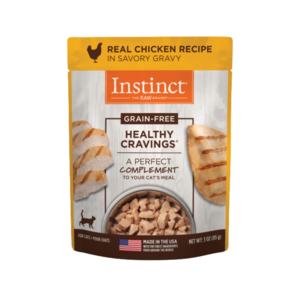 Price Comparison
Updated - Nov 21, 2018
---

Existing Customers
Free Shipping Orders $49+

28.99 + Shipping ($4.95)
$19.28

NEW Customers w/ AutoShip
New Customers w/ Auto-Ship
30% Off + 5% Off / First Time

Free Shipping On Orders $25+

$10 Off + Free Shipping Orders $60+
Use Code: SAVENOW

Review of Instinct Healthy Cravings
Real Chicken Recipe In Savory Gravy
Ingredient Review
The first ingredient is chicken broth. Chicken broth provides both flavor and moisture; however, as with other broths, chicken broth does not provide any notable nutritional contribution.
The second ingredient is chicken. Although chicken is an excellent protein source, raw chicken contains more than 60% moisture. After cooking, the relative meat contribution of chicken is dramatically reduced. Therefore, it's important to ensure that other meat sources are included within the first few ingredients to ensure the product derives most of its protein from meat.
The third ingredient is chicken liver. Chicken liver is an excellent organ meat which provides high quality protein and fat. In addition, chicken liver provides many essential vitamins and minerals.
The fourth ingredient is egg. Eggs are easy to digest and contain high quality protein. Egg protein is often given the highest biological value (BV). The BV metric measures the usability of the ingredient's protein.
The fifth ingredient is dried ground pea. Dried ground peas are naturally rich in an important antioxidant called beta carotene which is a precursor to vitamin A. Dried peas also provide dietary fiber and a notable amount of plant based protein.
Next we have natural flavor. Natural flavor enhances the flavor of the product. The difference between natural and artificial flavoring is that natural flavoring starts from a plant or animal whereas artificial flavoring is entirely man-made.
The next ingredient is sodium phosphate. Sodium phosphate is a generic term used for salts of sodium and phosphate. It is most likely used as a emulsifier, thickening agent, or leavening agent.
Then we have guar gum. Guar gum (or guaran) is obtained from guar beans which have been dehusked, milled and screened. It's commonly used in wet food products as a thickening agent and provides a notable amount of dietary fiber.
Moving on, we have salt. Salt is an important mineral for both humans and cats. Depending on the quantity of salt used (which we cannot determine), salt may or may not be a nutritious addition in the recipe.