Merrick All Natural Goodie For Dogs Review
Tripe & Liver Patties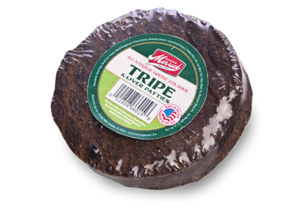 Review of Merrick All Natural Goodie For Dogs
Tripe & Liver Patties
Ingredient Review
The first ingredient is beef tripe. Beef tripe is the edible lining of a cow's stomach. It's a fairly nutritious ingredient which many dog owners claim to be highly palatable.
The second ingredient is beef liver. Beef liver is an excellent organ meat which provides high quality protein and fat. In addition, beef liver provides many essential vitamins and minerals.
The third ingredient is potato. Potatoes are commonly used in pet food as a gluten free carbohydrate source which also provides various vitamins, minerals, and antioxidants.