Merrick Fresh Kisses Double-Brush Review
Coconut + Botanical Oils For Large Dogs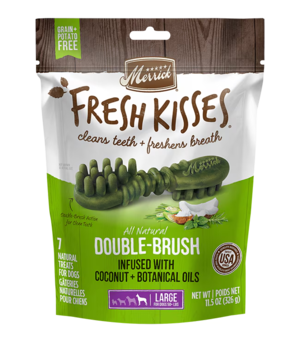 Price Comparison
Updated - Nov 20, 2018
---

Existing Customers
Free Shipping Orders $49+

8.49 + Shipping ($4.95)
$5.65

NEW Customers w/ AutoShip
New Customers w/ Auto-Ship
30% Off + 5% Off / First Time

$10 Off + Free Shipping Orders $60+
Use Code: SAVENOW


8.24 + Shipping (By Weight)
Lower Price $7.55 + Shipping
Available From 3rd-Party Seller
---

Existing Customers
Free Shipping Orders $49+

12.74 + Shipping ($4.95)
$8.47

NEW Customers w/ AutoShip
New Customers w/ Auto-Ship
30% Off + 5% Off / First Time

$10 Off + Free Shipping Orders $60+
Use Code: SAVENOW


12.13 + Shipping (By Weight)
Lower Price $11.99 + Shipping
Available From 3rd-Party Seller
---

$10 Off + Free Shipping Orders $60+
Use Code: SAVENOW
---

Existing Customers
Free Shipping Orders $49+

25.49 + Shipping ($4.95)
$16.95

NEW Customers w/ AutoShip
New Customers w/ Auto-Ship
30% Off + 5% Off / First Time

$10 Off + Free Shipping Orders $60+
Use Code: SAVENOW


21.88 + Shipping (By Weight)
Free Shipping On Orders $25+
Review of Merrick Fresh Kisses Double-Brush
Coconut + Botanical Oils For Large Dogs
Ingredient Review
The first ingredient is pea starch. Pea starch is a gluten free carbohydrate derived from peas. Typically, pea starch is used as a binder in kibble.
The second ingredient is tapioca starch. Tapioca starch is a gluten-free starch extracted from cassava roots. Starch is a necessary component in producing kibble and tapioca is an excellent choice in this regard.
The third ingredient is vegetable glycerin. Vegetable glycerin is a clear, orderless liquid derived from plant oils. It is often used to increase the product's moisture and/or improve palatability.
The fourth ingredient is gelatin. Gelatin is produced from animal by-products and contains 98% to 99% protein by dry weight. However, gelatin protein is incomplete and lacks many essential amino acids.
The fifth ingredient is natural flavor. Natural flavor enhances the flavor of the product. The difference between natural and artificial flavoring is that natural flavoring starts from a plant or animal whereas artificial flavoring is entirely man-made.
Next we have coconut oil. Coconut oil is an excellent source of medium chain fatty acids (MCFA) which are easier to digest and believed to promote skin and coat health.