Natural Balance Delectable Delights Review
Turkey Meatballs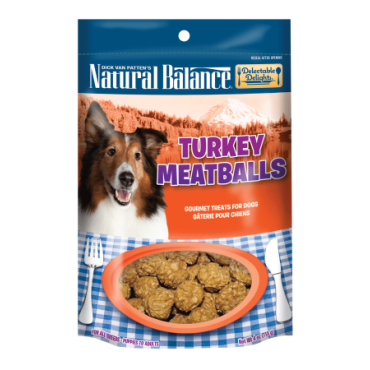 Review of Natural Balance Delectable Delights
Turkey Meatballs
Ingredient Review
The first ingredient is turkey. Although turkey is an excellent protein source, raw turkey contains more than 60% moisture. After cooking, the relative meat contribution of turkey is dramatically reduced. Therefore, it's important to ensure that other meat sources are included within the first few ingredients to ensure the product derives most of its protein from meat.
The second ingredient is brown rice flour. Brown rice flour is naturally rich in fiber and various minerals including manganese, phosphorus, and magnesium. Relative to other grains, brown rice flour is easy to digest.
The third ingredient is vegetable glycerin. Vegetable glycerin is a clear, orderless liquid derived from plant oils. It is often used to increase the product's moisture and/or improve palatability.
Controversial Ingredients
Caramel color is a concentrated form of caramel, a natural food colorant. Caramel color has been linked to cancer in laboratory animals. Since our pets do not care about food color, caramel color is an unnecessary addition with possible health risks.