Natural Balance Limited Ingredient Diets Review
Sweet Potato & Fish Formula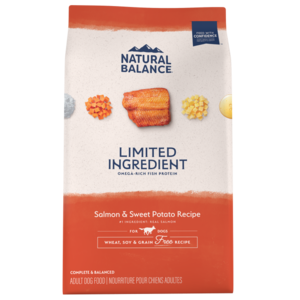 Price Comparison
Updated - Oct 15, 2018
---

Existing Customers
Free Shipping Orders $49+

17.89 + Shipping ($4.95)
$11.90

NEW Customers w/ AutoShip
New Customers w/ Auto-Ship
30% Off + 5% Off / First Time

$10 Off + Free Shipping Orders $60+
Use Code: SAVENOW


17.89 + Shipping (By Weight)
Free Shipping On Orders $25+
---

Existing Customers
Free Shipping Orders $49+

39.78 + Shipping ($4.95)
$26.45

NEW Customers w/ AutoShip
New Customers w/ Auto-Ship
30% Off + 5% Off / First Time

Free Shipping On Orders 35+

Free Shipping On Orders $25+

$10 Off + Free Shipping Orders $60+
Use Code: SAVENOW

---

Existing Customers
Free Shipping Orders $49+

59.67 + Shipping (Free)
$39.68

NEW Customers w/ AutoShip
New Customers w/ Auto-Ship
30% Off + 5% Off / First Time

Free Shipping On Orders 35+

Free Shipping On Orders $25+

$10 Off + Free Shipping Orders $60+
Use Code: SAVENOW

---

119.35 + Shipping (Free)
$109.35 w/ code

SAVENOW
$10 Off + Free Shipping Orders $60+
Use Code: SAVENOW
Review of Natural Balance Limited Ingredient Diets
Sweet Potato & Fish Formula
This product is manufactured by Natural Balance Pet Foods. Natural Balance Pet Foods is a subsidiary of Big Heart Pet Brands. In addition to Natural Balance, Big Heart Pet Brands also owns Nature's Recipe, Milk Bone, Meaty Bone, Meow Mix, PupPeroni, Ally Cat, and several other brands.
According to our data, this Natural Balance recipe provides complete & balanced nutrition for the maintenance of adult dogs. In other words, this formula is AAFCO approved.
Natural Balance Limited Ingredient Diets Sweet Potato & Fish Formula is formulated to meet the nutritional levels established by the AAFCO Dog Food Nutrient Profiles for the maintenance of adult dogs.
Ingredient Review
We'll begin this review of Natural Balance Limited Ingredient Diets Sweet Potato & Fish Formula with a detailed discussion of the ingredients.
The first ingredient is sweet potato. Sweet potatoes are a common gluten free carbohydrate source in pet food. In addition to its fiber content, sweet potatoes are an excellent source of beta carotene, an important antioxidant which serves as a precursor to vitamin A.
The second ingredient is salmon. Although salmon is an excellent protein and omega-3 fatty acid source, raw salmon contains more than 60% moisture. After cooking, the relative meat contribution of salmon is dramatically reduced. Therefore, it's important to ensure that other meat sources are included within the first few ingredients to ensure the product derives most of its protein from meat.
The third ingredient is fish meal. Fish meal is defined by AAFCO as "the clean, dried, ground tissue of undecomposed whole fish or fish cutting, either or both, with or without the extraction of part of the oil." Since the specific type of fish is not mentioned, we cannot discuss any specific qualities of this ingredient. In general, anonymous ingredients are low quality inclusions when compared to ingredients such as tuna meal, salmon meal, catfish meal, etc.
The fourth ingredient is potato protein. Potato protein is produced by extracting the starch of potatoes. This process results in a high protein and low ash ingredient called potato protein.
The fifth ingredient is canola oil (preserved with mixed tocopherols). The usage of canola oil is controversial in dog food. Canola plant seeds are the product of selective breeding applied to rapeseed, which in turn is used to produce rapeseed oil. It is widely known that rapeseed oil is dangerous for human and animal consumption.
Because ingredients are listed in order of pre-cooked weight, the remaining ingredients in Natural Balance Limited Ingredient Diets Sweet Potato & Fish Formula are not as important as the first five ingredients.
However, collectively they still have a significant impact on the overall quality of the product. Therefore, we'll continue discussing the remaining ingredients in this Natural Balance recipe.
Next we have natural flavor. Natural flavoring does not contribute any nutritional value.
The next ingredient is potato fiber. Potato fiber is a concentrated dietary fiber source. Fiber can help stabilize blood sugar levels and promote colon health.
Then we have salt. Salt is an important mineral for both humans and dogs. Depending on the quantity of salt used (which we cannot determine), salt may or may not be a nutritious addition in the recipe.
The remaining ingredients in this Natural Balance Limited Ingredient Diets recipe are unlikely to affect the overall rating of the product.
Our analysis of the ingredients show that this product derives most of its protein from animal based sources. This is an excellent property because meat based protein contains all of the necessary amino acids required by dogs. In our option, this is one of the most important properties to judge when reviewing pet food, therefore we believe this is an exceptional product in this regard.
Final Thoughts
In summary, we recognize that this product contains anonymous meat ingredients. These are not necessarily always negative; however, they are typically low quality and inexpensive additions. If the particular anonymous meat ingredient is controversial or low quality, it should have been discussed earlier in this review. Otherwise, it is safe to assume the anonymous meat ingredient is an acceptable addition.
The official PawDiet rating for Natural Balance Limited Ingredient Diets Sweet Potato & Fish Formula is 3.5 out of 5.