Natural Balance Limited Ingredient Treats Review
Brown Rice & Lamb Meal Formula Treats - Small Breed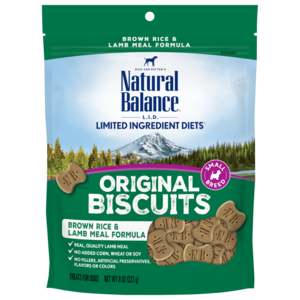 Price Comparison
Updated - Oct 17, 2018
---

Existing Customers
Free Shipping Orders $49+

4.33 + Shipping ($4.95)
$2.88

NEW Customers w/ AutoShip
New Customers w/ Auto-Ship
30% Off + 5% Off / First Time

4.33 + Shipping ($5.95)
$3.90 w/ code

HOT10
Save 10% On Treats
Use Code: HOT10


Free Shipping On Orders 35+

4.33 + Shipping (By Weight)

4.33 + Shipping (By Weight)
Lower Price $3.00 + Shipping
Available From 3rd-Party Seller
Review of Natural Balance Limited Ingredient Treats
Brown Rice & Lamb Meal Formula Treats - Small Breed
Ingredient Review
The first ingredient is brown rice. Brown rice is naturally rich in fiber and various minerals including manganese, phosphorus, and magnesium. Relative to other grains, brown rice is easy to digest.
The second ingredient is rice. Rice is a gluten-free carbohydrate source. As long as the bran and germ of the grain are intact, rice can provide a notable amount of fiber and nutrition. However, because the type of rice ("brown" or "white") is not specified, we cannot make this determination.
The third ingredient is rice bran. Rice grains can be divided into three components: bran, germ, and endosperm. The bran is the outer layer of the grain. The bran is an excellent fiber source, it also provide all three macronutrients (fat, protein, and carbohydrates) and various vitamins and minerals.
The fourth ingredient is lamb meal. Lamb meal is produced by cooking lamb using a process called rendering. The rendering process dramatically reduces the natural moisture of lamb and thereby results in a highly condensed protein source.
Controversial Ingredients
Canola oil is a plant-derived oil from the seeds of canola plants. Although fat is an essential component of any diet, canola oil is controversial in pet food. Proponents claim that canola oil provides a better fat profile in comparison to other plant based oils. However, opponents claim that canola oil is typically produced with genetically modified rapeseed and that rapeseed oil has multiple adverse health affects.