Natural Balance Limited Ingredient Treats Review
Sweet Potato & Fish Formula Treats - Small Breed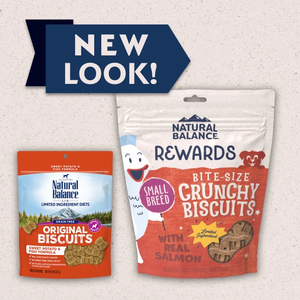 Price Comparison
Updated - Oct 20, 2018
---

Existing Customers
Free Shipping Orders $49+

4.33 + Shipping ($4.95)
$2.88

NEW Customers w/ AutoShip
New Customers w/ Auto-Ship
30% Off + 5% Off / First Time

4.33 + Shipping ($5.95)
$3.90 w/ code

HOT10
Save 10% On Treats
Use Code: HOT10

Free Shipping On Orders 35+


4.33 + Shipping (By Weight)

4.33 + Shipping (By Weight)
Lower Price $4.26 + Shipping
Available From 3rd-Party Seller
Review of Natural Balance Limited Ingredient Treats
Sweet Potato & Fish Formula Treats - Small Breed
Ingredient Review
The first ingredient is dried potato. Dried potatoes are commonly used in pet food as a gluten-free carbohydrate source. In addition to carbohydrates, dried potatoes also supply protein and various vitamins, minerals, and antioxidants.
The second ingredient is sweet potato. Sweet potatoes provide a notable amount of dietary fiber, vitamins, minerals, and antioxidants. In addition, sweet potatoes are gluten free and therefore commonly found in grain free and gluten free products.
The third ingredient is potato protein. Potato protein is produced by extracting the starch of potatoes. This process results in a high protein and low ash ingredient called potato protein.
The fourth ingredient is cane molasses. Cane molasses is a less refined form of sugar, made from sugar cane. It's naturally rich in various minerals including magnesium, manganese, iron, calcium, and potassium.
Cane molasses is however considered a controversial ingredient because it can raise a dogs blood sugar level, as it can with humans.
The fifth ingredient is salmon. Although salmon is an excellent protein and omega-3 fatty acid source, raw salmon contains more than 60% moisture. After cooking, the relative meat contribution of salmon is dramatically reduced. Therefore, it's important to ensure that other meat sources are included within the first few ingredients to ensure the product derives most of its protein from meat.
Next we have canola oil. Canola oil is a plant-derived oil from the seeds of canola plants. Although fat is an essential component of any diet, canola oil is controversial in pet food. Proponents claim that canola oil provides a better fat profile in comparison to other plant based oils. However, opponents claim that canola oil is typically produced with genetically modified rapeseed and that rapeseed oil has multiple adverse health affects.
The next ingredient is whitefish meal. Whitefish meal is produced by cooking whitefish using a process called rendering. The rendering process dramatically reduces the natural moisture of whitefish and thereby results in a highly condensed protein source.
Then we have calcium carbonate. Calcium carbonate is a naturally occurring mineral supplement. Although it's often used as a dietary calcium supplement, it can also be used as a preservative or color retainer.
Moving on, we have salt. Salt is an important mineral for both humans and dogs. Depending on the quantity of salt used (which we cannot determine), salt may or may not be a nutritious addition in the recipe.