Nutro Baked Beefy Bones Review
Beef Flavor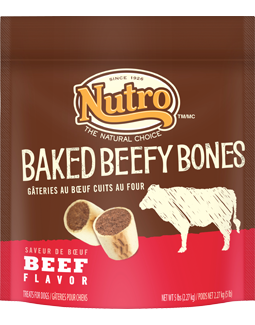 Review of Nutro Baked Beefy Bones
Beef Flavor
Ingredient Review
The first ingredient is wheat flour. Wheat flour is produced by grinding uncooked wheat into a powder. In addition to dietary fiber, wheat flour provides various vitamins, minerals, and plant based protein.
Wheat is considered a controversial ingredient because of it's protein content. Plant based proteins degrade the overall protein quality in the product. In addition, many people believe wheat is one of the most common ingredients to cause food allergies or intolerance. However, grains such as wheat are typically low offenders in comparison to certain protein sources such as beef.
The second ingredient is meat and bone meal. Meat and bone meal is produced by cooking meat and bone using a process called rendering. The rendering process dramatically reduces the natural moisture of meat and thereby results in a highly condensed protein source.
This ingredient is marked controversial because the source animal for the meat is not specified. These type of anonymous ingredient are typically very low quality and certainly inexpensive additions. The most unpleasing property of this ingredient is that the meat source can contain any mammal, even dogs & cats.
The third ingredient is sugar, which is really an unnecessary additive. It's most likely used to improve the food's palatability.
Controversial Ingredients
Animal fat is a by-product of tissue rendering. The source animal is not specific and therefore we cannot be certain that the source does not include diseased animals or even euthanized dogs and cats.