Nutro Crunchy Treats Review
With Real Apple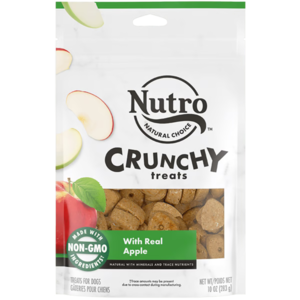 Price Comparison
Updated - Nov 20, 2018
---

Existing Customers
Free Shipping Orders $49+

4.79 + Shipping ($4.95)
$3.19

NEW Customers w/ AutoShip
New Customers w/ Auto-Ship
30% Off + 5% Off / First Time


4.79 + Shipping (By Weight)

4.79 + Shipping (By Weight)
Lower Price $3.73 + Shipping
Available From 3rd-Party Seller
---

Existing Customers
Free Shipping Orders $49+

7.19 + Shipping ($4.95)
$4.78

NEW Customers w/ AutoShip
New Customers w/ Auto-Ship
30% Off + 5% Off / First Time

7.19 + Shipping ($5.95)
$6.47 w/ code

HOT10
Save 10% On Treats
Use Code: HOT10

7.19 + Shipping (By Weight)

7.19 + Shipping (By Weight)
Lower Price $1.58 + Shipping
Available From 3rd-Party Seller
Review of Nutro Crunchy Treats
With Real Apple
Ingredient Review
The first ingredient is whole brown rice. Whole brown rice is naturally rich in fiber and various minerals including manganese, phosphorus, and magnesium. Relative to other grains, brown rice is easy to digest.
The second ingredient is oatmeal. Oatmeal is simply coarsely ground oats and therefore contains the entire oat grain. As with regular oats, oatmeal is rich in dietary fiber, B vitamins, and various minerals.
The third ingredient is chicken meal. Chicken meal is produced by cooking chicken using a process called rendering. The rendering process dramatically reduces the natural moisture of chicken and thereby results in a highly condensed protein source.
The fourth ingredient is cane molasses. Cane molasses is a less refined form of sugar, made from sugar cane. It's naturally rich in various minerals including magnesium, manganese, iron, calcium, and potassium.
Cane molasses is however considered a controversial ingredient because it can raise a dogs blood sugar level, as it can with humans.
The fifth ingredient is dried apple. Dried apples are high in dietary fiber and provide a modest amount of vitamins and minerals.
Next we have sunflower oil (preserved with mixed tocopherols). Sunflower oil is an omega-6 fatty acid source. Unlike other oils (flax, canola, etc), sunflower oil does not provide omega-3 fatty acids; However, the balancing omega-3 fatty acids are most likely supplied by another oil or fat source.
The next ingredient is natural flavor. Natural flavor enhances the flavor of the product. The difference between natural and artificial flavoring is that natural flavoring starts from a plant or animal whereas artificial flavoring is entirely man-made.