Nutro Natural Choice Grain Free Biscuits Review
Turkey & Potato Recipe For Adult Dogs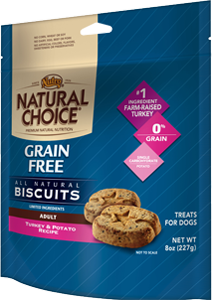 Review of Nutro Natural Choice Grain Free Biscuits
Turkey & Potato Recipe For Adult Dogs
Ingredient Review
The first ingredient is turkey. Although turkey is an excellent protein source, raw turkey contains more than 60% moisture. After cooking, the relative meat contribution of turkey is dramatically reduced. Therefore, it's important to ensure that other meat sources are included within the first few ingredients to ensure the product derives most of its protein from meat.
The second ingredient is dried potato. Dried potatoes are commonly used in pet food as a gluten-free carbohydrate source. In addition to carbohydrates, dried potatoes also supply protein and various vitamins, minerals, and antioxidants.
The third ingredient is potato starch. Potato starch is a gluten-free ingredient extracted from potatoes. Unlike whole potatoes, the starch itself does not provide a notable amount of nutrition.
The fourth ingredient is potato protein. Potato protein is produced by extracting the starch of potatoes. This process results in a high protein and low ash ingredient called potato protein.