Nutro Limited Ingredient Diet Review
Fish & Potato Recipe Premium Loaf For Adult Dogs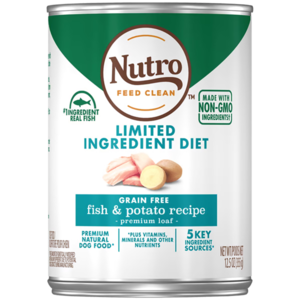 Price Comparison
Updated - Dec 09, 2018
---

Existing Customers
Free Shipping Orders $49+

29.88 + Shipping ($4.95)
$19.87

NEW Customers w/ AutoShip
New Customers w/ Auto-Ship
30% Off + 5% Off / First Time

Free Shipping On Orders $25+

$10 Off + Free Shipping Orders $60+
Use Code: SAVENOW

Review of Nutro Limited Ingredient Diet
Fish & Potato Recipe Premium Loaf For Adult Dogs
This product is manufactured by Mars Petcare Inc..
According to our data, this Nutro recipe provides complete & balanced nutrition for the maintenance of adult dogs. In other words, this formula is AAFCO approved.
Nutro Limited Ingredient Diet Fish & Potato Recipe Premium Loaf For Adult Dogs is formulated to meet the nutritional levels established by the AAFCO Dog Food Nutrient Profiles for the maintenance of adult dogs.
Ingredient Review
We'll begin this review of Nutro Limited Ingredient Diet Fish & Potato Recipe Premium Loaf For Adult Dogs with a detailed discussion of the ingredients.
The first ingredient is fish. Fish is typically an excellent protein and fat source. However, the specific type of fish is not mentioned and therefore we cannot discuss any specific qualities of this ingredient. In general, anonymous ingredients are low quality inclusions when compared to ingredients such as mackerel, cod, salmon, etc.
The second ingredient is whole potato. Whole potatoes are commonly used in pet food as a gluten free carbohydrate source which also provides various vitamins, minerals, and antioxidants.
The third ingredient is water. Water of course only provides moisture, a necessary component of wet dog foods.
The fourth ingredient is dried potato. Dried potatoes provide a notable amount of dietary fiber, vitamins, minerals, and antioxidants. In addition, dried potatoes are gluten free and therefore commonly found in grain free and gluten free products.
The fifth ingredient is potato protein. Potato protein is produced by extracting the starch of potatoes. This process results in a high protein and low ash ingredient called potato protein.
Because ingredients are listed in order of pre-cooked weight, the remaining ingredients in Nutro Limited Ingredient Diet Fish & Potato Recipe Premium Loaf For Adult Dogs are not as important as the first five ingredients.
However, collectively they still have a significant impact on the overall quality of the product. Therefore, we'll continue discussing the remaining ingredients in this Nutro recipe.
Next we have sunflower oil (preserved with mixed tocopherols). Sunflower oil is an omega-6 fatty acid source. Unlike other oils (flax, canola, etc), sunflower oil does not provide omega-3 fatty acids; However, the balancing omega-3 fatty acids are most likely supplied by another oil or fat source.
The next ingredient is carrageenan. Carrageenan is a substance extracted from edible seaweeds. Carrageenan is typically used for its thickening and emulsifying properties.
Then we have guar gum. Guar gum (or guaran) is obtained from guar beans which have been dehusked, milled and screened. It's commonly used in wet food products as a thickening agent and provides a notable amount of dietary fiber.
Moving on, we have potassium chloride. Potassium chloride is a potassium supplement.
Moving on with this review, we have dried brewers yeast. Dried brewers yeast is a by-product of the brewing industry. Brewers yeast is rich in various minerals and contains a notable amount of protein.
The next ingredient in this review is calcium carbonate. Calcium carbonate is a naturally occurring mineral supplement. Although it's often used as a dietary calcium supplement, it can also be used as a preservative or color retainer.
Our next ingredient is ferrous sulfate, which is an iron supplement.
choline chloride is the next ingredient in this recipe. Choline chloride is member of the B-vitamin complex (vitamin B4).
The remaining ingredients in this Nutro Limited Ingredient Diet recipe are unlikely to affect the overall rating of the product.
Our analysis of the ingredients show that this product derives a considerable amount of protein from non-meat ingredients. This is an undesirable property because plant based protein often lacks many of the necessary amino acids required by dogs. This property is typically found in lower quality products.
Final Thoughts
In summary, we recognize that this product contains anonymous meat ingredients. These are not necessarily always negative; however, they are typically low quality and inexpensive additions. If the particular anonymous meat ingredient is controversial or low quality, it should have been discussed earlier in this review. Otherwise, it is safe to assume the anonymous meat ingredient is an acceptable addition.
The official PawDiet rating for Nutro Limited Ingredient Diet Fish & Potato Recipe Premium Loaf For Adult Dogs is 3.0 out of 5.