Nutro Wholesome Essentials Review
Farm-Raised Chicken & Brown Rice Recipe For Indoor Adult Cats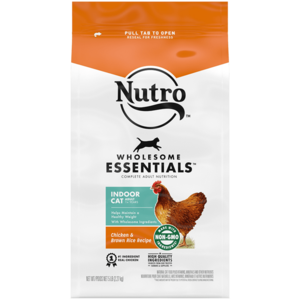 Price Comparison
Updated - Nov 21, 2018
---

Existing Customers
Free Shipping Orders $49+

9.92 + Shipping ($4.95)
$6.60

NEW Customers w/ AutoShip
New Customers w/ Auto-Ship
30% Off + 5% Off / First Time

Free 2-Day Shipping Available
On Orders $35+

Free Shipping On Orders 35+

$10 Off + Free Shipping Orders $60+
Use Code: SAVENOW


9.92 + Shipping (By Weight)
Lower Price $6.91 + Shipping
Available From 3rd-Party Seller

13.39 + Shipping (By Weight)
---

Existing Customers
Free Shipping Orders $49+

18.97 + Shipping ($4.95)
$12.62

NEW Customers w/ AutoShip
New Customers w/ Auto-Ship
30% Off + 5% Off / First Time

$10 Off + Free Shipping Orders $60+
Use Code: SAVENOW

Free 2-Day Shipping Available
On Orders $35+

Free Shipping On Orders 35+


18.97 + Shipping (By Weight)
Free Shipping On Orders $25+

23.59 + Shipping (By Weight)
---

Existing Customers
Free Shipping Orders $49+

31.97 + Shipping ($4.95)
$21.26

NEW Customers w/ AutoShip
New Customers w/ Auto-Ship
30% Off + 5% Off / First Time

Free Shipping On Orders $25+

$10 Off + Free Shipping Orders $60+
Use Code: SAVENOW

Free Shipping On Orders 35+

Free 2-Day Shipping Available
On Orders $35+


43.39 + Shipping (By Weight)
Review of Nutro Wholesome Essentials
Farm-Raised Chicken & Brown Rice Recipe For Indoor Adult Cats
This product is manufactured by Mars Petcare Inc..
According to our data, this Nutro recipe provides complete & balanced nutrition for the maintenance of adult cats. In other words, this formula is AAFCO approved.
Nutro Wholesome Essentials Farm-Raised Chicken & Brown Rice Recipe For Indoor Adult Cats is formulated to meet the nutritional levels established by the AAFCO Cat Food Nutrient Profiles for the maintenance of adult cats.
Ingredient Review
We'll begin this review of Nutro Wholesome Essentials Farm-Raised Chicken & Brown Rice Recipe For Indoor Adult Cats with a detailed discussion of the ingredients.
The first ingredient is chicken. Although chicken is an excellent protein source, raw chicken contains more than 60% moisture. After cooking, the relative meat contribution of chicken is dramatically reduced. Therefore, it's important to ensure that other meat sources are included within the first few ingredients to ensure the product derives most of its protein from meat.
The second ingredient is chicken meal. Chicken meal is produced by cooking chicken using a process called rendering. The rendering process dramatically reduces the natural moisture of chicken and thereby results in a highly condensed protein source.
The third ingredient is brewers rice. Brewer's rice is the small fragments of rice kernel that are separated from the larger kernels of milled rice. The fragments do not contain the same nutrition profile of the whole kernel and therefore brewer's rice is a lower quality grain. Brewer's rice is typically regarded as an inexpensive and low quality filler.
The fourth ingredient is pea protein. Pea protein is produced by removing the starchy parts of peas. Pea protein is considered controversial because it provides a substantial plant based protein boost. This boost is undesirable because plant based protein is typically lower in biological value when compared to meat based proteins.
The fifth ingredient is whole brown rice. Whole brown rice is naturally rich in fiber and various minerals including manganese, phosphorus, and magnesium. Relative to other grains, brown rice is easy to digest.
Because ingredients are listed in order of pre-cooked weight, the remaining ingredients in Nutro Wholesome Essentials Farm-Raised Chicken & Brown Rice Recipe For Indoor Adult Cats are not as important as the first five ingredients.
However, collectively they still have a significant impact on the overall quality of the product. Therefore, we'll continue discussing the remaining ingredients in this Nutro recipe.
Next we have dehydrated alfalfa meal. Dehydrated alfalfa meal is produced from the alfalfa flowering plant. it's rich in plant based protein, dietary fiber, and various vitamins and minerals.
The next ingredient is chicken fat (preserved with mixed tocopherols). Chicken fat provides a healthy dose of linolic acid, which is an important omega-6 fatty acid.
Then we have potato protein. Potato protein is produced by extracting the starch of potatoes. This process results in a high protein and low ash ingredient called potato protein.
Moving on, we have dried plain beet pulp. Dried plain beet pulp is the by-product which remains once sugar has been extracted from sugar beets. The keyword "plain" in this ingredient emphasizes that the beet pulp has not been sweetened, which is often done for palatability.The primary contribution of dried plain beet pulp is dietary fiber.
We'd also like to note that beet pulp is fairly controversial in pet food. Proponents claim that beet pulp can promote intestinal health and regulate blood sugar. However, opponents claim that beet pulp is an inexpensive filler.
Moving on with this review, we have flaxseed. Flaxseeds are an outstanding source of omega-3 fatty acids and dietary fiber. They also provide a notable amount of protein, B vitamins, and various minerals.
The remaining ingredients in this Nutro Wholesome Essentials recipe are unlikely to affect the overall rating of the product.
Our analysis of the ingredients show that this product derives most of its protein from animal based sources. This is an excellent property because meat based protein contains all of the necessary amino acids required by cats. In our option, this is one of the most important properties to judge when reviewing pet food, therefore we believe this is an exceptional product in this regard.
Final Thoughts
In summary, we recognize that this product does not contain any artificial colors, artificial preservatives, or anonymous meat ingredients.
The official PawDiet rating for Nutro Wholesome Essentials Farm-Raised Chicken & Brown Rice Recipe For Indoor Adult Cats is 2.5 out of 5.