Nutro Max Review
Turkey & Giblets Formula For Adult Cats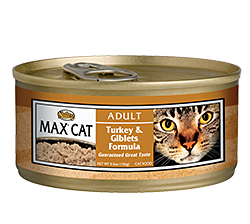 Review of Nutro Max
Turkey & Giblets Formula For Adult Cats
This product is manufactured by Mars Petcare Inc..
According to our data, this Nutro recipe provides complete & balanced nutrition for the maintenance of adult cats. In other words, this formula is AAFCO approved.
Nutro Max Turkey & Giblets Formula For Adult Cats is formulated to meet the nutritional levels established by the AAFCO Cat Food Nutrient Profiles for the maintenance of adult cats.
Ingredient Review
We'll begin this review of Nutro Max Turkey & Giblets Formula For Adult Cats with a detailed discussion of the ingredients.
The first ingredient is turkey. Although turkey is an excellent protein source, raw turkey contains more than 60% moisture. After cooking, the relative meat contribution of turkey is dramatically reduced. Therefore, it's important to ensure that other meat sources are included within the first few ingredients to ensure the product derives most of its protein from meat.
The second ingredient is turkey broth. Turkey broth provides both flavor and moisture; however, as with other broths, turkey broth does not provide any notable nutritional contribution.
The third ingredient is chicken giblets. Chicken giblets include chicken hearts, gizzards, lungs, livers, ovaries, and other internal organs. These are all excellent animal derived protein and fat sources. Although they may not be appealing to humans, organ meats are one of the most nutritious components in any carnivores animal's diet.
The fourth ingredient is beef liver. Beef liver is an excellent organ meat which provides high quality protein and fat. In addition, beef liver provides many essential vitamins and minerals.
The fifth ingredient is beef. Beef is another excellent protein source. As with other raw meats, beef contains a substantial amount of moisture and therefore the relative meat contribution of beef is dramatically reduced after cooking.
Because ingredients are listed in order of pre-cooked weight, the remaining ingredients in Nutro Max Turkey & Giblets Formula For Adult Cats are not as important as the first five ingredients.
However, collectively they still have a significant impact on the overall quality of the product. Therefore, we'll continue discussing the remaining ingredients in this Nutro recipe.
Next we have ground rice. Ground rice is a gluten-free carbohydrate source. As long as the bran and germ of the grain are intact, rice can provide a notable amount of fiber and nutrition. However, because the type of rice ("brown" or "white") is not specified, we cannot make this determination.
The next ingredient is egg product. Egg product consists of shell-free eggs which are easy to digest and contain high quality protein. Egg protein is often given the highest biological value (BV). The BV metric measures the usability of the ingredient's protein.
Then we have oat bran. Oat grains can be divided into three components: bran, germ, and endosperm. The bran is the outer layer of the grain. The bran is an excellent fiber source, it also provide all three macronutrients (fat, protein, and carbohydrates) and various vitamins and minerals.
Moving on, we have guar gum. Guar gum (or guaran) is obtained from guar beans which have been dehusked, milled and screened. It's commonly used in wet food products as a thickening agent and provides a notable amount of dietary fiber.
Moving on with this review, we have potassium chloride. Potassium chloride is a potassium supplement.
The next ingredient in this review is salt. Salt is an important mineral for both humans and cats. Depending on the quantity of salt used (which we cannot determine), salt may or may not be a nutritious addition in the recipe.
The remaining ingredients in this Nutro Max recipe are unlikely to affect the overall rating of the product.
Our analysis of the ingredients show that this product derives most of its protein from animal based sources. This is an excellent property because meat based protein contains all of the necessary amino acids required by cats. In our option, this is one of the most important properties to judge when reviewing pet food, therefore we believe this is an exceptional product in this regard.
Final Thoughts
In summary, we recognize that this product does not contain any artificial colors, artificial preservatives, or anonymous meat ingredients.
The official PawDiet rating for Nutro Max Turkey & Giblets Formula For Adult Cats is 5.0 out of 5.