Orijen Freeze-Dried Cat Treats Review
Original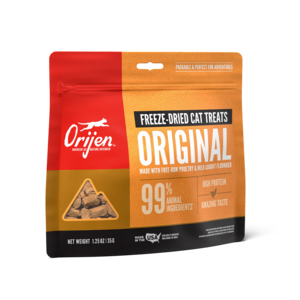 Price Comparison
Updated - Oct 20, 2018
---

6.49 + Shipping ($5.95)
$5.84 w/ code

HOT10
Save 10% On Treats
Use Code: HOT10

Free Shipping On Orders 35+
Review of Orijen Freeze-Dried Cat Treats
Original
Ingredient Review
The first ingredient is chicken liver. Chicken liver is an excellent organ meat which provides high quality protein and fat. In addition, chicken liver provides many essential vitamins and minerals.
The second ingredient is turkey liver. Organ meats like turkey liver are an excellent source of protein, fat, and essential vitamins and minerals. Although organs may not sound appealing, organs are an important component of a carnivorous animal's diet.
The third ingredient is chicken. Although chicken is an excellent protein source, raw chicken contains more than 60% moisture. After cooking, the relative meat contribution of chicken is dramatically reduced. Therefore, it's important to ensure that other meat sources are included within the first few ingredients to ensure the product derives most of its protein from meat.
The fourth ingredient is turkey. Turkey is another excellent protein source. As with other raw meats, turkey contains a substantial amount of moisture and therefore the relative meat contribution of turkey is dramatically reduced after cooking.
The fifth ingredient is arrowtooth flounder. Arrowtooth flounder is another outstanding protein and omega-3 fatty acids source. Flounder also contains all of the necessary essential amino acids required by cats.