Pedigree Dentastix Review
Original Toy/Small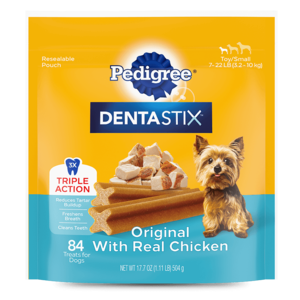 Price Comparison
Updated - Nov 20, 2018
---

Existing Customers
Free Shipping Orders $49+

11.97 + Shipping ($4.95)
$8.38

NEW Customers w/ AutoShip
Free 1-2 Day Shipping Orders $49+
30% Off First Auto-Ship
---

Existing Customers
Free Shipping Orders $49+

14.31 + Shipping ($4.95)
$10.02

NEW Customers w/ AutoShip
Free 1-2 Day Shipping Orders $49+
30% Off First Auto-Ship

Free 2-Day Shipping Available
On Orders $35+
---

Existing Customers
Free Shipping Orders $49+

3.47 + Shipping ($4.95)
$2.43

NEW Customers w/ AutoShip
Free 1-2 Day Shipping Orders $49+
30% Off First Auto-Ship
---

---

Existing Customers
Free Shipping Orders $49+

8.47 + Shipping ($4.95)
$5.93

NEW Customers w/ AutoShip
Free 1-2 Day Shipping Orders $49+
30% Off First Auto-Ship

Free 2-Day Shipping Available
On Orders $35+


$10 Off + Free Shipping Orders $60+
Use Code: SAVENOW
Review of Pedigree Dentastix
Original Toy/Small
Ingredient Review
The first ingredient is rice flour. Rice flour is a gluten-free carbohydrate source. As long as the bran and germ of the grain are included in the flour, rice flour can provide a notable amount of fiber and nutrition. However, because the type of rice ("brown" or "white") is not specified, we cannot make this determination.
Controversial Ingredients
Powdered cellulose is produced from minuscule pieces of wood pulp and plant fibers. Other than its fiber content, powdered cellulose lacks any nutritional contribution.
Iron oxide is an FDA approved natural food coloring agent. It's commonly found in rusting metal and provides a reddish-brown color.
We believe food colorants are unnecessary ingredients in dog food. Other than potential harm, food colorants do not provide any nutritional value. These type of ingredients are used only to make the food look appealing to humans.