Purina One SmartBlend True Instinct Review
With Real Salmon & Tuna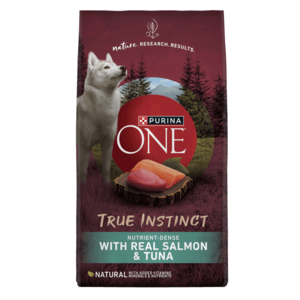 Price Comparison
Updated - Oct 16, 2018
---

Free 2-Day Shipping Available
On Orders $35+
---

Existing Customers
Free Shipping Orders $49+

12.58 + Shipping ($4.95)
$8.37

NEW Customers w/ AutoShip
New Customers w/ Auto-Ship
30% Off + 5% Off / First Time


12.58 + Shipping (By Weight)
Free Shipping On Orders $25+
---

Existing Customers
Free Shipping Orders $49+

22.79 + Shipping ($4.95)
$15.16

NEW Customers w/ AutoShip
New Customers w/ Auto-Ship
30% Off + 5% Off / First Time

Free 2-Day Shipping Available
On Orders $35+

22.79 + Shipping (By Weight)
Free Shipping On Orders $25+
---

Existing Customers
Free Shipping Orders $49+

32.99 + Shipping ($4.95)
$21.94

NEW Customers w/ AutoShip
New Customers w/ Auto-Ship
30% Off + 5% Off / First Time

Free Shipping On Orders $25+

Free 2-Day Shipping Available
On Orders $35+


$10 Off + Free Shipping Orders $60+
Use Code: SAVENOW
---

Existing Customers
Free Shipping Orders $49+

48.99 + Shipping ($4.95)
$32.58

NEW Customers w/ AutoShip
New Customers w/ Auto-Ship
30% Off + 5% Off / First Time

Free Shipping On Orders $25+
Review of Purina One SmartBlend True Instinct
With Real Salmon & Tuna
This product is manufactured by Nestlé Purina Petcare.
According to our data, this Purina One recipe provides complete & balanced nutrition for the maintenance of adult dogs. In other words, this formula is AAFCO approved.
Unlike other AAFCO approved dog foods which rely in laboratory testing to substantiate nutritional adequacy, this recipe has undergone feeding trials. In the pet food industry, feeding trials are often considered to be the superior testing method.
Animal feeding tests using AAFCO procedures substantiate that Purina One SmartBlend True Instinct With Real Salmon & Tuna provides complete and balanced nutrition for the maintenance of adult dogs.
Ingredient Review
We'll begin this review of Purina One SmartBlend True Instinct With Real Salmon & Tuna with a detailed discussion of the ingredients.
The first ingredient is salmon. Although salmon is an excellent protein and omega-3 fatty acid source, raw salmon contains more than 60% moisture. After cooking, the relative meat contribution of salmon is dramatically reduced. Therefore, it's important to ensure that other meat sources are included within the first few ingredients to ensure the product derives most of its protein from meat.
The second ingredient is corn gluten meal. Corn gluten meal is a by-product from the production of various corn products (corn starch, corn syrup, etc). It's very high in protein (nearly 60% protein) and therefore can significant boost the protein content of the product. Because plant based proteins such as corn gluten meal are inferior to meat based proteins (lack many essential amino acids), they are not suitable substitutes.
The third ingredient is soybean flour. Soybean flour contains more than 50% protein. Therefore, soybean can significantly boost the protein content of the product. The inclusion of non-meat protein typically degrades the overall quality of protein in the recipe. This degradation is due to the inferior amino acid profile of plant based proteins.
The fourth ingredient is rice flour. Rice flour is a gluten-free carbohydrate source. As long as the bran and germ of the grain are included in the flour, rice flour can provide a notable amount of fiber and nutrition. However, because the type of rice ("brown" or "white") is not specified, we cannot make this determination.
The fifth ingredient is beef fat (preserved with mixed tocopherols). Fat is an important part of your dogs diet, beef fat in particular is a good source of essential fatty acids.
Because ingredients are listed in order of pre-cooked weight, the remaining ingredients in Purina One SmartBlend True Instinct With Real Salmon & Tuna are not as important as the first five ingredients.
However, collectively they still have a significant impact on the overall quality of the product. Therefore, we'll continue discussing the remaining ingredients in this Purina One recipe.
Next we have whole grain wheat. Whole grain wheat contains the entire grain of wheat (the germ, bran, and endosperm). Wheat is the second most-produced cereal grain in the world (corn is the first). Although wheat is a controversial ingredient, it is not necessarily undesirable because it provides dietary fiber and many other nutrients. However, wheat contains a notable amount of plant based protein, which is inferior to meat based protein and therefore an undesirable substitution.
Wheat is also one of the most common ingredients to cause food allergies or intolerance. However, grains such as wheat are typically low offenders in comparison to certain protein sources (such as beef).
The next ingredient is chicken meal. Chicken meal is produced by cooking chicken using a process called rendering. The rendering process dramatically reduces the natural moisture of chicken and thereby results in a highly condensed protein source.
The remaining ingredients in this Purina One SmartBlend True Instinct recipe are unlikely to affect the overall rating of the product.
Our analysis of the ingredients show that this product derives a substantial amount of protein from non-meat ingredients. This is an undesirable property because plant based protein often lacks many of the necessary amino acids required by dogs. This property is typically found in lower quality products.
Final Thoughts
In summary, we recognize that this product contains anonymous meat ingredients. These are not necessarily always negative; however, they are typically low quality and inexpensive additions. If the particular anonymous meat ingredient is controversial or low quality, it should have been discussed earlier in this review. Otherwise, it is safe to assume the anonymous meat ingredient is an acceptable addition.
The official PawDiet rating for Purina One SmartBlend True Instinct With Real Salmon & Tuna is 1.5 out of 5.