Get

35% OFF

Today

—

Chewy.com
Limited Time

—

35% OFF + Free Shipping

—

Chewy.com
How To Reduce Grooming Fear In Your Puppy
---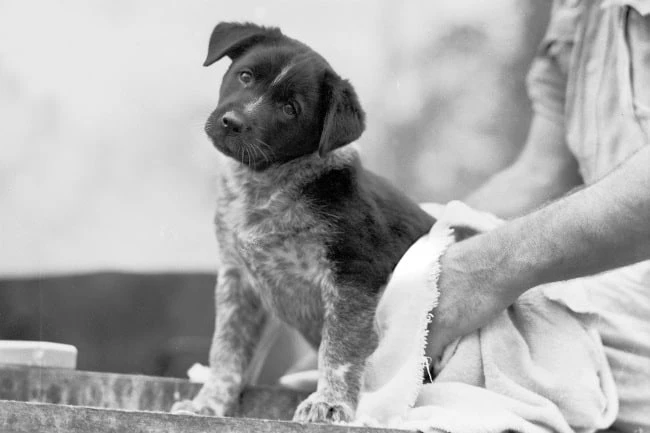 The good news is that you have a new puppy. The bad news is that he, or she, will require regular haircuts. It's best to have a plan when doing it yourself; begin with suitable clippers and a stress relieving routine. With a few simple steps, the process can be painless and fun.
Your clippers should be compatible to your puppy's hair. Puppy fur is soft and fine. Will it stay that way or thicken as it grows? Is your breed known for coarse hair? If so, it's best to purchase clippers with dual speeds; therefore, the stronger speed can be used later. It's a good idea to research different brands, and then contact customer service with questions; ask for help with blade selection and noise level. Although you may not need a commercial set, purchase one that is powerful enough for your needs. Customer service can provide instructions on blade cleaning, cooling, and oiling. Proper care will result in better clips and injury reduction.
If you have never used clippers, you may need instructions. Search the Internet for tutorials and tips on your specific clippers. You can contact a groomer to take a class. Lack of knowledge can scare your puppy; it may even result in injury or razor burn. You don't want this. Before the first haircut, contact your vet for instructions on treating razor burn and nicks. You don't want to have an accident, but it's best to be prepared.
Are You Bathing Your Puppy Before Clipping?
Since clean fur is easier to clip, bathing should precede clipping. Clean fur produces a uniform cut, and blades will perform better. After a bath, the puppy should be thoroughly dried. Although air-drying is easier, a hair dryer will speed up the process. With a little time and patience, it won't be long before your puppy enjoys this bonding time.
When bath time is no longer stressful for you, or the puppy, it's time to begin the clipping process. It may take time to introduce clippers, so don't rush the process. Clipper introduction requires patience. The first step is to find a convenient area that is comfortable for both of you. This might be an interior table, or picnic table in the back yard. If the surface is slippery, provide a rubber mat; this will make the clipping process easier. Next, secure your pet to limit movement; it's hard to clip a moving dog, and this will prevent accidents. If you are inclined, purchase a grooming arm and loop from a pet supply store. Before purchasing the arm, you will need to take measurements for the proper fit. If you need help with measurements, you can contact customer service. A correct fit will allow for a safe clipping environment.
Once the clipping area is ready, it's time to introduce the clippers. Most clippers are noisy; this is what scares pets. Begin by placing your clean pet on the rubber mat; secure the pet properly. Spend the first session brushing and playing with your pet; do not turn the clippers on. First, let Fido smell the clippers. Next, you will gently rub it across the back and belly areas; repeat this process, without turning them on. Do this several times, and stop when you see positive progress. It's always best to end the session with a reward and playtime.
At the next session, repeat the above process. If your puppy is relaxed, turn the clippers on; allow the puppy to examine them. Next, turn them off and place them on the table. Repeat this process until the pup is comfortable with the noise. At the next session, repeat these steps; however, when the clippers are running, turn them over and rub them across the back area. If this goes well, rub them over the stomach area too. No clipping is done at this time. This lets the pet get used to the sound and weight of the clippers. Repeat this process until you, and the puppy, are comfortable. Remind yourself that you're not on a time frame; leisurely clipper introduction produces productive lifelong sessions. The puppy will notice if you become stressed; don't let that happen.
Once the puppy is comfortable with the clipper noise, it's time to test a small area. Repeat the above steps, and then gently clip a small patch on the back. If the response is positive, turn the clippers off; end the session with a treat. Repeat all steps the next day, and then begin by clipping the back area. If the response is positive, continue clipping the back and extend down each leg. If the puppy becomes nervous, stop. The next day, repeat the same steps; follow with kisses and treats. It's necessary to repeat this process each day until the puppy is fully clipped. If an area causes stress, stop clipping and try again later. Slowly repeat each step until you get the desired results.
Clipper introduction is a slow process that requires patience. If done properly, it will result in a lifetime of stress-free clipping. If a puppy is forced-clipped, clipping will remain a struggle. All puppies are different and adjust at different rates. If you take time for proper introduction and adjustment, you will reap the benefits. Happy clipping!