Get

50% OFF

Today

—

Chewy.com
Limited Time

—

50% OFF + Free Shipping

—

Chewy.com
Mid America Pet Food Expands Recall of Pet Food Products Due to Salmonella Risks (Multiple Brands Included)
---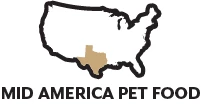 In a recent development, Mid America Pet Food, based in Mount Pleasant, Texas, has announced an expansion of its voluntary recall originally dated October 30, 2023. This expansion includes additional pet food products with Best By Dates before October 31, 2024, produced at its Mount Pleasant facility. The recall is driven by the potential contamination of these products with Salmonella, posing health risks to both animals and humans.
Salmonella, a bacterial infection, can affect animals consuming the contaminated products and poses a risk to humans handling these products. Symptoms in humans include nausea, vomiting, diarrhea, abdominal cramping, and fever. In severe cases, it can lead to more serious conditions like arterial infections and endocarditis. People who come into contact with these products and develop symptoms are advised to seek medical care.
Pets infected with Salmonella may show signs of lethargy, diarrhea, fever, and vomiting. In some cases, pets may show less obvious symptoms like reduced appetite and abdominal pain. Healthy pets can also be carriers, potentially infecting other animals or humans. Pet owners are advised to consult veterinarians if their pets show any of these symptoms after consuming the recalled products.
The recall primarily affects the following brands produced at the Mount Pleasant facility:
Victor Super Premium Dog Foods
Wayne Feeds Dog Food
Eagle Mountain Pet Food
Selected Member's Mark varieties
For a complete list of products included in this recalls, please refer to this list provided by the FDA.
These products have been distributed across the United States and can be identified by the Best By Date located on the middle top of the back of each bag.
As of November 1, 2023, there have been seven reported cases of Salmonella infections linked to these products. Retailers and distributors have been instructed to immediately remove and destroy all products from their inventory. Pet owners are advised to stop feeding these products to their pets and follow safety guidelines, including destroying the food securely and sanitizing any containers or utensils used for pet food.
For further information or queries, consumers can contact Mid America Pet Food Consumer Affairs at 1-888-428-7544, available from 8 AM to 11 PM EST, seven days a week. This recall is being carried out in cooperation with the U.S. Food and Drug Administration, underlining the seriousness of the issue.
The expanded recall by Mid America Pet Food underscores the importance of vigilant safety practices in pet food production and handling. Pet owners and distributors are urged to adhere to the recall guidelines to prevent any further health risks associated with these products.