Get

50% OFF

Today

—

Chewy.com
Limited Time

—

50% OFF + Free Shipping

—

Chewy.com
Dog Behavioral Problems, Stop Puppy Biting, Dog Behavior Patterns
---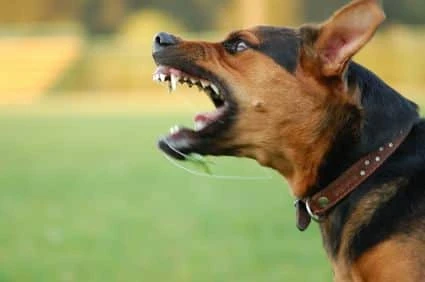 Learn how to cure common dog behavioral problems with our selection of the the best free dog & puppy training tips.
In this section we will help you to cure some of the following dog behavior patterns:
Before we start we have also produced a free six week dog training course below – that cover all the behavior problems you may encounter with your dog or puppy.
Stop puppy biting
Common dog behavior patterns
Learn how to stop dogs from chewing.
How to stop dog barking…
Cure a whining puppy and puppy crate training whining problems.
Learn dog barking control – training your dog to speak & be quiet.
Stop your dog jumping fence panels, hedges, gates and wall etc…
Stop neighbors dog barking.
Problems with your puppy peeing.
Dog barking training – Learn how to train a dog to bark – great for a future guard dog.
Free vet advice.
Are your dogs eating poop – also known as cophragia.
Stop your puppy eating poop
Stop dog from barking out of boredom.
How to stop your dog mounting.
More free puppy training tips on how to stop puppy biting and nipping.
Stop your dog or dogs digging.
Submissive urination
Dog food aggression.
Abused dog behavior.
and lots more…
These are just some of the topics that we will cover and will continue to add new dog training techniques, tips, devices, tools and commands to eliminate any unusual behavior as fast as possible, so take a browse and learn some of the tools of the trade so you too can have well trained and happy dog or puppy.
---
Dog Behavioral Problems
Common reasons why your pooch may be behaving badly
Many puppy & dog behavioral problems are the result of a lack of early obedience training.
Your pooch maybe suffering from dog separation anxiety which can often be a cause of problem behavior.
Common issues such as fence jumping, digging, barking, biting, nipping and whining maybe due to a lack of proper communication from you.If you train your dog what is right and wrong from the start you are much more likely to have a dog or puppy that behaves well.
Always use reward based dog training methods. You may find our section on positive reinforcement useful for this.
Don't ever physically reprimand your dog or puppy. Aggressive behavior from you only will breed aggressive behavior in your pooch.
Many issues may stem from abuse. You may have received your dog from a rescue home where they have been placed due to behavior problems.Consequently, you may be starting the obedience training later in your dog's life – so it may take a little longer to cure really significant issues.
---
Dog Behavioral Problems
Get the timing right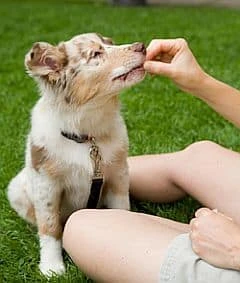 It is very important when dog or puppy obedience training that you always reward or reprimand your dog or puppy immediately after the event.
Below we have listed most important things to remember when dog training:
Eye Contact
It is very important that you keep eye contact with you dog or puppy when you give any dog training commands.
Use hand signals at the same time as you use the commands.
Don't over feed your dog or puppy with lots of rewards as your dog will end up becoming fat.
Body language
Learn to anticipate your dog's behavior, by doing this you can fix any dog behavioral problems before they become too serious.
Give dog training commands when your dog is alert and ready. Don't issue any commands if he is losing concentration.
Use Firm Dog Training Commands
Use a firm sharp command to reprimand your dog or puppy.
If you want to you could use a water spray to squirt your dog at the same time as you reprimand him – but that is up to you. We only use vocal commands.
Don't Delay Rewards
Always reward your dog or puppy straight after he has done what you have asked. Sometimes the best cure to dog behavioral problems is to reinforce good behavior.
Use a treat at the same time as a verbal 'Good Boy'
Gradually reduce the amount of treats you give and increase the verbal praise.
Check out our section on negative reinforcement and for reward based training take a look at our page on positive reinforcement for more information on dog training commands
---
Dog Behavioral Problems
Every dog has their own personality
Each breed of dog and puppy has different personality traits that either make the dog training process easy or harder.
Below we have listed some of the personality types and common dog behavior patterns and how easy they are to train.
A Responsive & Co-operative Personality
There are without doubt the easiest dogs to train as they are very good with people and have a natural wiliness to learn.
This personality type have a natural curiosity and are ready and willing to investigate, respond and listen to people.
A Confident and Dominant Personality
Each dog or puppy has there own personality and this does not always come down to the breed, but maybe due to environmental factors and what the dog has experienced in his life.
You may own two dogs who are the same breed, with one having a natural confidence.
Did you know that a neutered dog and a female bitch that is between her seasons is easier to train.
Dogs that have not been neutered are more difficult to train.
Insecure and Submissive Personality
If you own a dog with a submissive personality they may find the whole training process overwhelming.
An insecure dog may find any training commands too much to handle.
This personality type needs more of a gentle training regime – use any dog training commands in a less harsh manner.
If you are having major dog behavioral problems and you own a young dog, try taking him to puppy training classes.