Get

50% OFF

Today

—

Chewy.com
Limited Time

—

50% OFF + Free Shipping

—

Chewy.com
Healthy Homemade Dog Food Recipes, Making your Own Dog Food,
---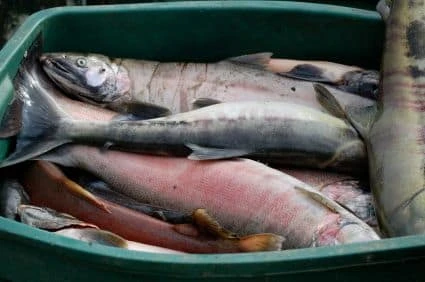 Healthy Homemade Dog Food Recipes
Fish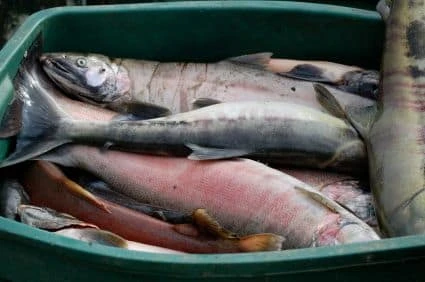 Healthy homemade dog food recipes, in this section you will learn the best recipes for homemade dog foods.
On this page you will learn how to make dog food with fish, grain free, dry, moist or freeze dried making your own dog food has never been easier or faster.
Making your own dog food has never been easier.
A short Video on the Secrets in someDogs Food
These Salmon Specials Cookies are also Wheat Free!
Below are the ingredients that you will need:
1/2 cup flax seeds
1/2 cup sesame seeds
1/2 cup parsley
1 8 oz. can of salmon with juice
3 eggs (with shells)
2-3 cups potato flour
How to make this healthy homemade dog food recipe.
Ground up the flax seeds and sesame seeds and chop the parsley.
Put all the ingredients except for the potato flour into a food mixer.
Pour in the potato flour through the opening as the ingredients mix.
When the dough rolls into a ball it is ready to take out.
Put the dough onto a potato floured board.
Knead in more potato flour and roll it out to a 1/8″ thickness.
Cut into shapes.
Place on 2 lightly greased baking sheets (or as many as needed).
Place in an oven, preheated to 375º for 20 min.
Turn the sheets around and bake for about 10 more minutes.
The treats can be served with a soft or hard consistency.
---
Healthy Homemade Dog Food Recipes
Fish
These tasty tuna biscuits are another wheat free treat!
The ingredients that you will need are:
1 cup of oatmeal
1 small can of tuna in oil
1/3 cup of water
1 cup of yellow cornmeal
1/4 tablespoon of baking powder
1/2 tablespoon of garlic powder
How to make this great homemade dog food recipe.
Put the oatmeal in a food processor until coarse flour is formed.
Add the tuna and oil followed by the water.
Then mix in the rest of ingredients.
Pulse the mixture until a ball is formed.
Knead the ball on a floured surface.
When the mixture forms a soft ball of dough.
Roll it out to a 1/8″-1/4″ thickness.
Cut into squares or use cookie cutters.
Bake on lightly greased cookie sheet, at 350º for 20 to 25 minutes.
Allow to cool before serving.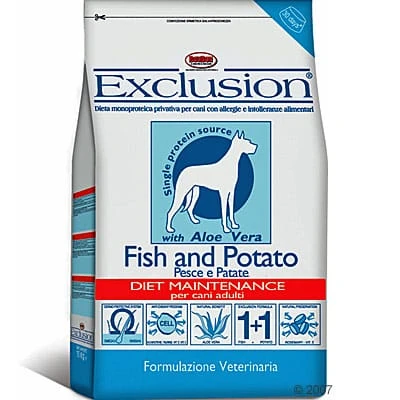 Exclusion Dog Food with Fish and Potato – 4kg
Exclusion dog food with fish and potato contains just a single animal protein source (north sea fish) and also provides your dog with carbohydrates using a light potato content. A highly-balanced dog food Exclusion has been created in accordance with the results and recommendations of veterinary studies and due to its special dietary properties it is particularly suitable for dogs that suffer from allergies intolerances and skin irritation.
---
Healthy Homemade Dog Food Recipes
Fish
Iced tuna treat.
Ingredients:
16 oz can of Tuna* in water
(32 oz) of plain or vanilla Yogurt
tablespoons of Garlic Powder
24 3 oz plastic (not paper) freezable cups
Now here are the steps to make this recipe:
Mix all the ingredients together and scoop into the cups.
Place on a tray and freeze overnight.
* For variety chicken, mashed vegetables or bananas can be used in place of the tuna.
Healthy Homemade Dog Food Recipes
Organic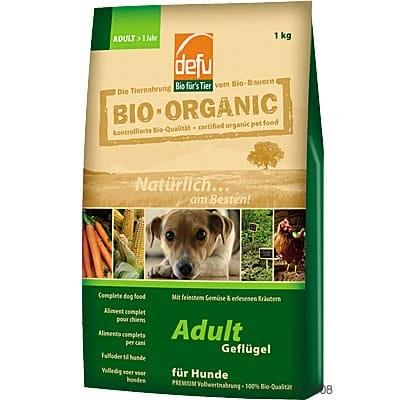 Defu Adult Organic Dog Food – 12.5 kg
Defu organic food is the first full-diet food with pure poultry the finest vegetables and carefully selected herbs all in strictly inspected and certificated 100% organic quality! All ingredients come from inspected organic farms plus the production of the food is organically certified.
The selection of high-quality unpolluted raw ingredients from ecological production as well as gentle processing provide the perfect conditions for a powerful and vital life for your pet.
---
---