Get

50% OFF

Today

—

Chewy.com
Limited Time

—

50% OFF + Free Shipping

—

Chewy.com
How to Find a High Quality Dog Trainer
---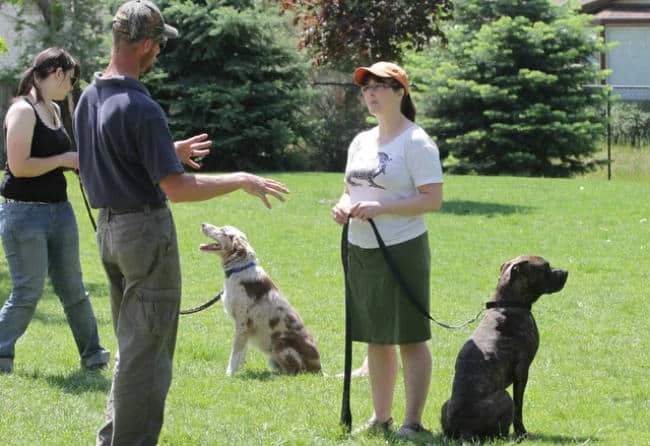 So you've decided to have your dog trained by a professional. Having your dog trained is a great way to make sure that it becomes obedient and safe, two things you'll definitely want to ensure if you have a family. However, once you decide to have your dog trained, you're going to have to find an actual dog trainer. This may prove to be more challenging than you might think. The reason why it might be a somewhat difficult task is that dog trainers are not required to have any type of qualification, which means it's up to you to find a professional that provides high quality and humane training for dogs. The following are a few tips to help you find the right trainer for your pup.
Do your research – In a world where every business is reviewed online, you should be able to do a little research on a particular dog trainer. Look at his or her website and check out any reviews. You should be able to make a pretty good judgment call based on the reviews. If the dog trainer's website is bare or nonexistent, and he or she has poor reviews from customers, you should probably stay away.
Visit the training facility – Go check out the facility where the dogs are trained. You'll want to see how the dogs are treated and how they are trained to make sure that the process is humane. Speak with the trainer in order to get a sense of whether he or she is experienced and knowledgeable.
Look for certification – Although certification isn't required in order to operate as a dog trainer, picking a dog trainer that does have certification goes a long way in ensuring a high quality training process. The following are some of the organizations that provide dog training certifications that you should look for:
Academy of Veterinary Behavior Technicians
American College of Veterinary Behaviorists
American Veterinary Society of Animal behavior
Society of Veterinary Behavior Technicians
Look for red flags – Look over the training procedure that the dog trainer provides. There are certain red flags that you should avoid. This includes any type of guarantee – a guarantee cannot be realistically provided by any trainer, which means that this is just an empty sales pitch. Also be on the lookout for any signs of negative reinforcement as this could mean that the trainer uses inhumane methods or training tools. There are some trainers out there who will advertise the fact that they don't use treats as a positive way to train your dog. However, the lack of treats in a training method often means that the trainer will focus on the use of punishment instead of rewards.
Positive training methods to look for – Trainers that make use of treats, toys and food tend to use positive reinforcement. Just be careful of trainers that overuse this term as an advertisement method. If you see any evidence of inhumane training methods while you visit the training facility, such as the use of spike collars, shock collars or choke collars, then they most definitely do not use positive reinforcement. Trainers that offer specific family pet training services and that work with the owner or family of the dog in order to train it are excellent signs of a high quality dog trainer.
Look for smaller classes – The smaller a class is, the more focus there will be on training your dog.
These are a few tips that will help you find a high quality professional to train your dog. Have any tips of your own?
Consider Becoming Your OWN Dog Trainer!
While many dogs do require the help from professional dog trainers or dog obedience experts, most dogs that we have as family pets can be trained without the use of expensive dog trainers. One of the best ways for most dog owners to teach their dogs anything from basic obedience to advanced training is to become trainers themselves…. and it's not as hard as you think! Check out the dog training videos below and become the best trainer your dog could ever have!