Pictures of Tick Bites, Groin Rash, Dog Rashes, Skin Rash Photos on Legs, Deer
Pictures of Tick Bites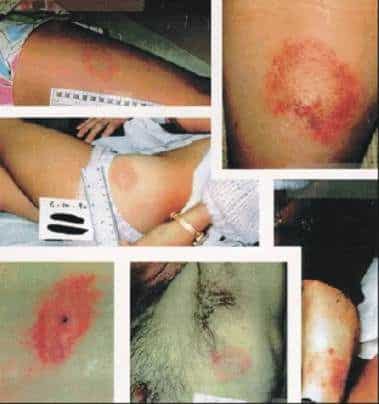 We have provided lots of pictures of tick bites including photos of common rashes on the skin, underarm rashes, on the neck, under the breasts, face, stomach… basically as many photos that we can include on this page.
Most of the Pictures are of the classic red bumpy bullseye tick bite rash…we have also provided a guide to some of the symptoms of lyme disease.
Pictures of Tick Bites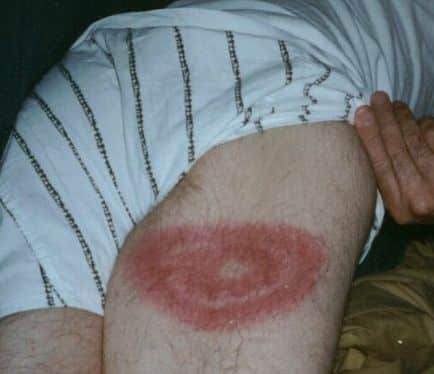 The above photo is of the lyme disease rash that took ten days to appear. Notice the classic red bumpy appearance.
Symptoms of lyme disease…
Fever
Appetite loss
Swollen and sore limbs
Skin Infections
Lethargy and tiredness
Arthritis
Hair loss
Headache
Twitching
Dental pains
Sore throat…
The list goes on and on… for a complete guide to the symptoms of lyme disease check out www.canlyme.com as the list includes many more symptoms than the ones listed above.
Although the classic bullseye tick bite rash is a symptom of lyme disease, you do not always need to get a rash to have the disease – this is a major misunderstanding with many people.
Did you know that 50% of people that get bitten by a tick do not even realize that they have been bitten and the same proportion do not even get a rash. This maybe due to the rash simply not appearing or due to it being in a very discreet place like under the hair or behind the ears.
Pictures of Tick Bites

The above photos show many different rashes. It is a misconception that the bullseye tick bite rash will only appear in one area as it can appear in more than one place at a time.
Notice that the rash can show anywhere, including underarm, on the legs, the face, back, toes, neck, groin anywhere!
Pictures of Tick Bites
Notice the photo above of the classic red bumpy rash under the breasts. This can obviously be extremely embarrassing but it is extremely important that you get medical treatment at the earliest stage as this can be critical in treating the disease.
If you fail to get a rash or notice a rash for some reason, symptoms of lyme disease can take weeks, months and even years before they appear. The symptoms will often come and go sometimes appearing years later.
---
Go from pictures of tick bites back to free vet advice or back to dog obedience training home-page