Get

50% OFF

Today

—

Chewy.com
Limited Time

—

50% OFF + Free Shipping

—

Chewy.com
Yorkie Poodle, Puppies, Yorkie Poo Pictures, Grooming a Yorkie
---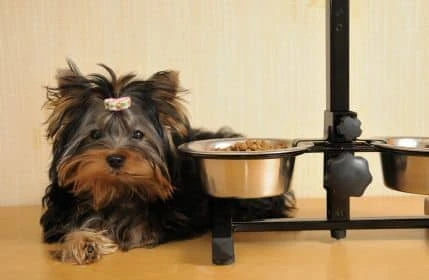 The Yorkie Poodle is a mix between the Yorkshire Terrier and a Poodle (miniature) and is sometimes called a yorkie poo, yorkie doodle and yo-yopoo.
Read all the info on this mixed breed, including health, obedience training, temperament, grooming, life span, characteristics & lots more…
---
The Yorkie Poodle
Fact File…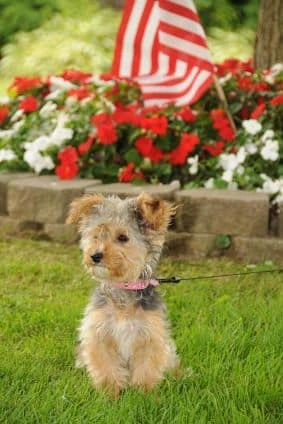 The Yorkie Poodle has a life span of about 15 years – but this obviously varies from dog to dog.
The Yorkie Poo will grow to a height ranging from 7 up to 12 inches and this hybrid can weigh from 6 up to 8 pounds.
The Yorkie Poodle are very energetic dogs and love to run around and play so you will need to be prepared to give your pooch plenty of exercise.
The Yorkie Poo is a fantastic family dog who love to spend time with all the family. For this reason if you happen to live alone then this breed may not be the best dog for you to own. However, having said this – if you are at home most of the time and make your dog the center of your life then this dog may be perfect for you. You need to weigh up the pros and cons as only you know best.
Although many small dog breeds are quite excitable and even a little highly strung – the Yorkie Poodle are not normally prone to this problem.
The Yorkie Poo does not always respond well to being left alone for long periods of time or when separated from the family – so for this reason they are great to have as a companion as long as you don't work away for long periods of time or work all day leaving your dog alone for long periods. Leaving your dog for long periods may lead to separation anxiety issues and may result in your dog developing behavioral problems that take root as you are not their to stop the behavior problems from developing in their initial stages.
As with all dogs and puppies it is important that you start socializing your pooch from an early age as this will help stop any nervous or aggressive behavior from starting when introduced to new experiences. Puppy socialization is a very important aspect of dog obedience training and should involve you introducing your pooch to as many new and different experience as possible including other dogs (of different sizes and sexes), cats, horses, joggers, cars, buses, males, females, people in uniforms, wearing hats, motor bikes, older people – basically as many experiences as you possibly can. It will make the dog training process that much easier in the long term.
The Yorkie Poodle prefers warmer weather and some owners tend to put a little doggie coat on their pooch if it gets too cold – this isn't always necessary but it is used by some dog owners.
Although the Yorkie Poo can be stubborn when it comes to house training and potty training as long as you remain consistent, fair and use reward based training methods this dog can be trained as easily as any other pure or mixed breed. Take a look at our page on training Yorkshire Terriers for more advice.
Although a popular family dog – sometimes due to their small size they may not be the best dog to have around small children as they can be easily injured if not handled properly.
As with all mixed breeds your dog may inherit specific characteristics from either side of the family i.e. more form the Poodle or more from the Yorkie side. Consequently, your Yorkie Poo may have a curly coat like the pictures above or a straight coat similar to the picture shown below. The coat is also non-shedding (hypoallergenic) so is excellent for people who suffer from allergies.
The Yorkie Poodle
Fact File Continued…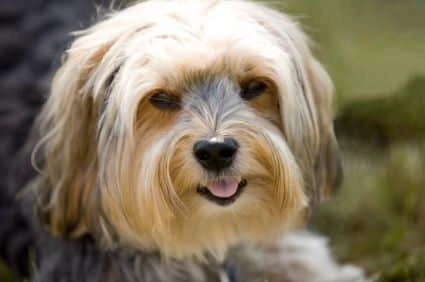 As with all types of dogs (especially those with long coats) regular grooming is important – not only to stop the fur from matting and getting tangled but as away for you to spot any ticks, fleas or dry skin conditions. Tear stains can be a problem so bathing the area around the eyes may be needed if it becomes a problem.
The Yorkie Poo comes in many different colors and different combinations of colors depending on which genes have been inherited from each breed i.e the Poodle or the Yorkie.
The Yorkie Poodle can inherit and develop a variety of health problems either from the Poodle genes or the Yorkshire Terrier genes. Health problems can include.
Luxated Patella
Thyroid Problems
Hypoglycemia
Musculoskeletal problems
Eye problems including Cataracts.
Tracheal problems – including a collapsing trachea
Dental problems are very common so brushing your dogs teeth on a regular basis is very important to stop the teeth decaying, rotting and falling out.
These dogs don't always respond well to anesthetic.
Mitral Valve disease
Urolithiasis – this is when your pooch gets urinary tract problems caused by stones.
This hybrid is a popular breed but always make sure you get your Yorkie Poo from a respected breeder and expect to pay as much as $1100.